Ecologically, St. Catherines Island is surrounded by some of the least polluted marshes on the East Coast of North America and the 14,000 acres of uplands on the Island host a diversity of intact plant communities. These include some of the best remaining old growth Maritime Live Oak Forests on the Georgia barrier islands and the very rare Dry Hickory Maritime Forest and Maritime Longleaf Pine Woodlands. Sea turtles and shorebirds nest on the beaches, wood storks raise young around island ponds, and there is a rich diversity of birds and butterflies. The history of land management has conserved these ecological values.
St. Catherines Island Native Plant List
A list of native plants documented on SCI has been compiled from two botanical surveys conducted on the island by Horace A. Somes and Thomas R. Ashburn in 1973, and Nancy C. Coile and Samuel B.Jones in 1988, with additional species added by various people since then. The list contains 466 native plant species to date.
You can download the list here
St. Catherines Island Digital Herbarium
During the summer of 2014, two botany interns, Elise Landreaux and Hali Steinmann, from Sewanee, the University of the Southworked under the direction of Dr. Ken Smith to make taxonomic updates to the St Catherines Island plant list and herbarium sheets using Weakley's Flora of the Carolina's, Virginia, Georgia, northern Florida, and surrounding areas (2012). A digital version of the herbarium originally assembled by Coile and Jones (UGA) is under construction. It will allow researchers and students to view items in the St. Catherines Island herbarium quickly and efficiently, without unnecessary handling of the fragile and historically important specimens.
Plant photos courtesy Christa F. Hayes
---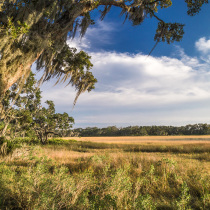 Salt and brackish tidal marshes are a dominant and characteristic environment around St. Catherines Island and along the whole Georgia coast. The boat ride to the Island by way of coastal rivers traverses the extensive salt marshes on the mainland-side of the island.
Read on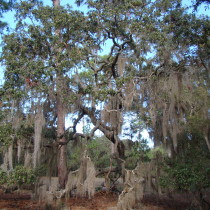 Maritime forests run in narrow bands along the eastern edge of the Southern Coastal Plain. These predominantly evergreen forests border the expanse of marshes on the mainland and cover the upland parts of barrier islands and hammocks.
Read on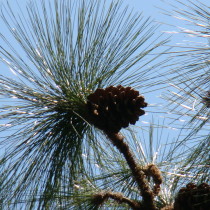 Before European settlement, longleaf pine (Pinus palustris) forests were the dominant forest type throughout the coastal plain of the southeastern United States from Virginia to Texas. More than 90 million acres of longleaf pine forests existed, from dry sandhills to mesic flatwoods.
Read on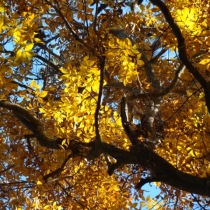 The major forest type on Georgia barrier islands is characterized by the presence of live oak (Quercus virginiana)—often mixed with laurel oak (Quercus hemisphaerica), slash pine (Pinus elliottii), and magnolia (Magnolia virginiana).
Read on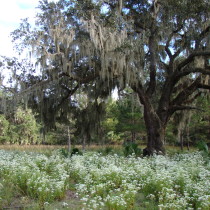 The central section of the Island is underlain by poorly drained soils and was once a matrix of open ponds, freshwater marsh, and forested wetlands.
Read on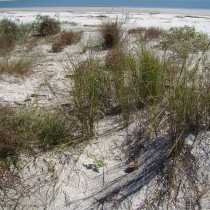 This complex of communities exists along a gradient from the dynamic beach environment to more stabilized sands with shrub and forest vegetation. The vegetation is determined by several factors: tidal action, salt spray, soil type, soil organics, soil pH levels, freshwater, and storm events.
Read on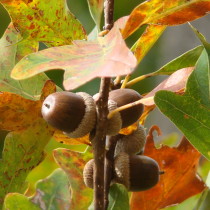 Live oaks, laurel oaks, magnolias, American holly, sparkleberry, and cabbage palms may be what come to mind in an oak maritime forest, but microhabitats host diverse and often surprising species.
Read on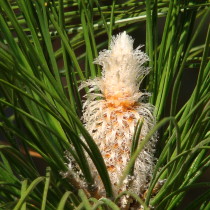 Both self-perpetuating and successional pine communities interface with oak maritime forests on St. Catherines Island. Pine species, such as spruce and pond, are typical components of moist, low-lying areas, while longleaf pine is found on the high tablelands of the island's Pleistocene cores.
Read on