The major forest type on Georgia barrier islands is characterized by the presence of live oak (Quercus virginiana)—often mixed with laurel oak (Quercus hemisphaerica), slash pine (Pinus elliottii), and magnolia (Magnolia virginiana). The usually dense understory comprises saw palmetto (<Serenoa repens), cabbage palmetto (Sabal palmetto), American holly (Ilex opaca var. opaca), and the remnants of redbay (Persea borbonia). Additionally, a very unique forest type, dry hickory maritime forest, is embedded within the maritime live oak forest matrix.
The abundance and diversity of species in this forest correlate to a range of ecological settings—from stabilized dunes and marsh hammocks to upland forests on Pleistocene sands—and a history of land use. The structure and composition of these forests is influenced by salt spray, severe storms, soil type, soil moisture, and periodic fire. There is significant variability in the role of fire in maritime live oak and hickory forests, but fire influences the regeneration of hardwoods, increases groundcover diversity, and creates structural diversity at the landscape scale.
The maritime live oak forest remains the most common forest type on St. Catherines Island, found throughout the island on the Pleistocene core and stabilized dunes. The dry hickory maritime forest occurs in the northwestern corner and mid-eastern side of the Pleistocene core. Relatively undisturbed maritime oak forests are rare, especially the richer forests on the Pleistocene uplands. The dry hickory maritime forest is extremely rare, found in only six locations throughout its range—four of which are on St. Catherines Island.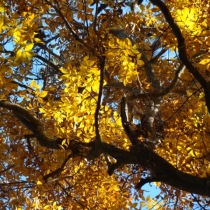 ---
References:
Fire Adaptive Landscaping for Native Habitats and Wildlife in the Southern Coastal Plain, prepared by Christa F. Hayes for the Georgia Forestry Commission and U.S. Fish and Wildlife Service Coastal Division, 2013.
Source: A Strategic Conservation Plan for St. Catherines Island, Georgia, Prepared for the St. Catherine's Island Foundation – Robert D. Sutter, L. Gregory Low, Sara J. Gottlieb, June 2013